World renowned for our warm hospitality, breath-taking scenery and genuine sense of fun, Ireland boasts the best of both worlds, where history and culture meets first class facilities and services.
Air access to Ireland is frequent and easy from US, UK, Europe, and Middle East
Ireland is only 6 hours from the US, 2 hours from mainland Europe and 45 minutes from the United Kingdom
A real plus for our US visitors is the pre clearance of US Customs and Immigration in Dublin and Shannon
Ireland is a small country and you can travel from east to west in approximately 2 hours
Cities are compact and walkable
Ireland makes things easy. Located on the edge of Europe and less than six hours from the east coast of the United States, we're easy to get to, easy-going, and most importantly, easy to do business with. Only two hours from mainland European capitals and 50 minutes from London, access to Ireland is simple from most parts of the world.

Over 189 US flights, 1368 EU flights and 1159 UK flights arrive into Ireland every week, with Dublin, Shannon, Cork, Kerry and Belfast Airports always ready to cater for international visitors. As the only country in Europe to offer US Customs and Immigration pre-clearance prior to departure, travelling back across the Atlantic from Ireland couldn't be more convenient.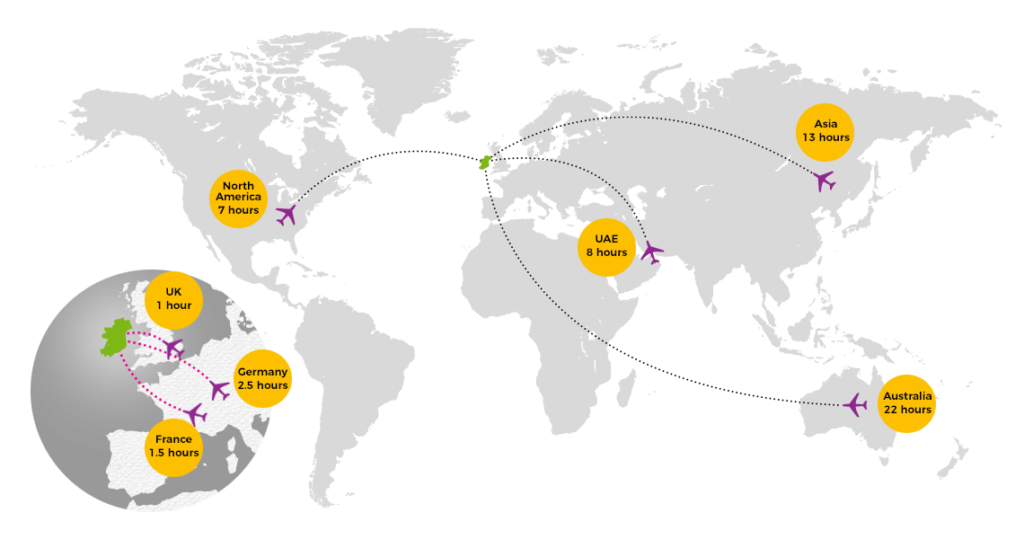 From Ancient Castles to State of the Art Convention Centres, an Irish Hooley in a Barn to an exclusive gala in a historical Georgian building – Ireland has many venues on offer.

Traditionally known as a land of saints and scholars, Ireland hold host to a wealth of culture and tradition. Over 5,000 years of history can be told through the remains of megalithic graves, monastic remains, to Castles and historical houses throughout Ireland.

Known as the land of One hundred thousand welcomes. Dublin has been names the No. 1 friendliest city in Europe and the fifth in the World by Condé Nast.
The diverse range of scenery across this small country means visitors can pack plenty of things to do into a short space of time. Picturesque fishing villages, tranquil coves, dramatic islands and some of the richest culture and traditions in Europe. It's no wonder the island is so frequently the source of artistic inspiration.
With over 400 golf courses, Ireland has become one of the major golfing destinations in the world. From our magnificent links on our rugged coastline to the splendor of our beautiful parkland courses, Ireland has courses to cater for every golfer.
Ireland's diverse landscape provides a playground for the adventurous. From world class golf, excellent watersports, fishing, sea angling, horse riding, cycling and hill walking. There are plenty of opportunities to get active with the backdrop of the most dramatic and breath-taking scenery.
What our clients have to say...
Our incentive program to Killarney and Dublin was so very memorable and different and a trip that our winners still talk about. So many of them came up to me at our national sales meeting this year to reminisce about their experience in Ireland and how it was a trip that they will remember for the rest of their lives. We could not have made that happen without you. From the very beginning you helped us develop a program that was well balanced, fun, relaxing, exciting and different.
PHARMACEUTICAL COMPANY, USA, CANADA & BRAZIL